Witness the Stars of Big Bend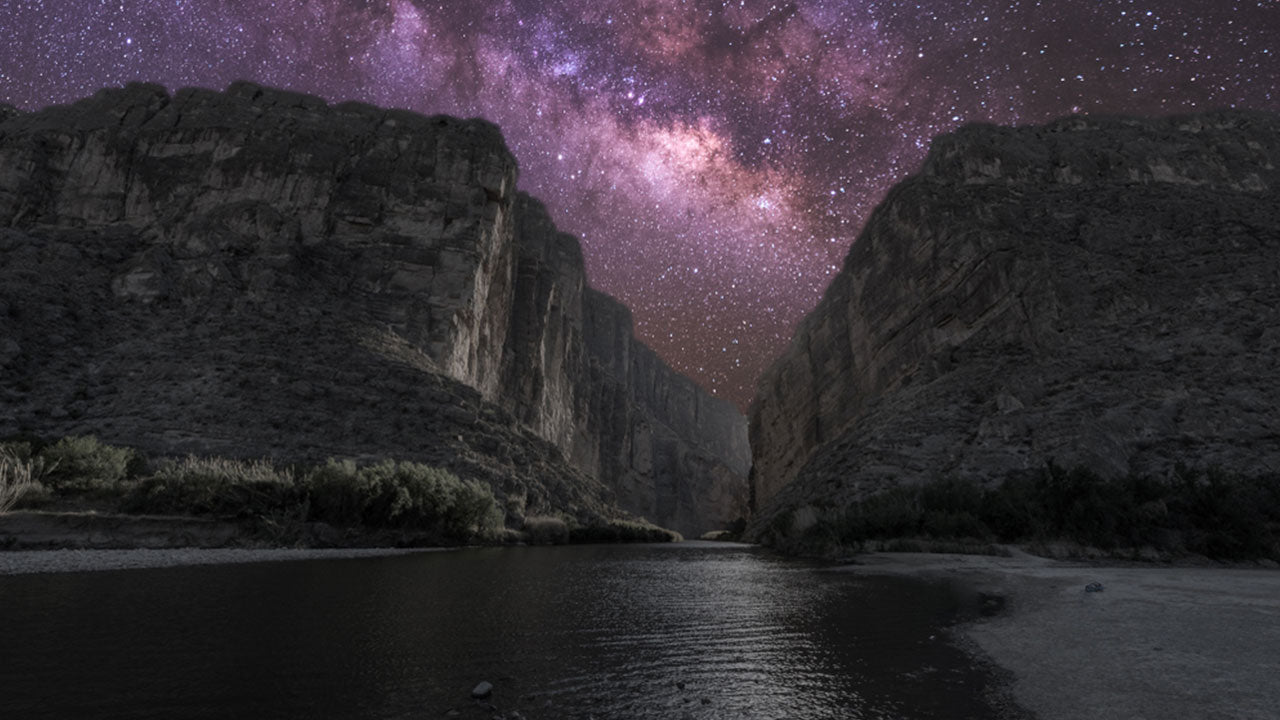 This Texas national park offers the best conditions for stargazing anywhere in the United States, but it's also one of the country's most ecologically diverse locations.
By Owen Clarke
Our vast nation houses over 60 national parks, this one calls Texas home. 
This park sits out alone among the stark, desolate deserts in the southernmost reaches of Far West Texas, right above the Rio Grande and the Mexican border…
BIG BEND!
The 800,000-acre Big Bend National Park, authorized by Congress in 1935 and established in 1944, was created to protect a section of the Chihuahuan Desert along the Rio Grande ("Big River"), the only representative area of this biome in the United States.
But it isn't just a one-of-a-kind slice of the Chihuahuan Desert, the largest desert in North America, with all the characteristic yucca woodlands, agaves, playas, gypsum dunes, and vast grasslands. 
Big Bend also houses more species of birds, butterflies, ants, bats, scorpions, and cacti than any other national park in the United States, with 11 species of amphibians, 56 species of reptiles, 75 species of mammals, 40 species of fish, over 450 species of birds, and several thousand species of insects. 
Simply put, it's one of the most biologically diverse regions in the entire country. From turtles, snakes, and lizards to coyotes, mountain lions, black bears, elk, and bobcats, all manner of living creatures call the rough deserts of Big Bend home.
If you have a bit of patience, and keep a watchful eye, a visit to Big Bend will be well rewarded.
A Storied Past
Big Bend National Park holds evidence of nearly 12,000 years of human history. In the last several hundred years, a variety of southwestern Native American tribes such as the Jumano, Mescalero Apache, Chisos, and Comanche called the area around the park home. It wasn't until quite recently, in the 1870s, however, that non-Indians, msot of whom were ranchers, began to settle in Big Bend. By the early 1900s, a variety of farmers, miners, and ranchers called Big Bend home.
All manner of historical sites are housed within the park's boundaries, from archeological sites dating back 10,000 years to ranches, wax camps, mining operations, and military outposts. One fascinating experience at Big Bend today (at least for history buffs) is driving along portions of the Comanche Trail, the famous route that Comanche warriors used to raid down into Mexico. The Comanches in many places padded out a thoroughfare over a mile wide. Early explorers noted that the path was "so well beaten that it appeared that suitable engineers had constructed it."
You can also visit the La Harmonia (formerly Castolon) country store, which has served as a trading hub for local people since 1902. From a consulate to a sheriffs' department to a notary public, bank, and general store for medical, hardware, and ranch supplies, it provided a centralized do-it-all service in the region for much of the early 20th century, until it was sold to the National Park Service in 1961. 
Today, although the ice box is now electric, a microwave heats some of the food, and candelilla wax and furs have been replaced by snacks and tourist info, a visit to La Harmonia still feels like a step back in time.
Note: Why "Big Bend?"
The park's unique name comes from its location, just above where the Rio Grande "bends" along the south of Trans-Pecos (or "Far West") Texas. At this bend, it curves back north briefly before turning south again near Del Rio, heading to its terminus in the Gulf of Mexico near Brownsville and Matamoros. The 1,896-mile river, which originates in Colorado, delineates much of the United States' southern border with Mexico.
A Park All Your Own
In 2021, Big Bend saw over half a million visitors. This might sound like a lot, but when you look at parks like Rocky Mountain, Zion, and Yellowstone, which regularly clock over 3 million visitors (not to mention Smoky Mountain National Park, which saw a whopping 14 million visitors in 2021), you realize that Big Bend remains a remote, rugged park, far more on the wild side than many other national parks.
This is probably one of the reasons why it's considered the best place in the entire United States for night sky viewing! 
The park houses over 100 backcountry camping sites and over 200 frontcountry sites (25 of which are RV hookups) in addition to seven picnic areas. In addition to 200+ miles of hiking trails, there's plenty of opportunity for watersports, such as canoeing, rafting, and kayaking, along the 200 miles of river inside the park. 
If you're looking to plan a visit, fall and spring are the best times, with warm, mild temperatures. Summers can be exceedingly hot (May and June are the hottest months, with temperatures in the mid to high 80s) although temperatures taper off at higher elevations in the Chisos Mountains and summer monsoons can bring heavy amounts of rainfall. Winters are also relatively mild with temperatures in the 40s and 50s, although colder snaps with light snow are not uncommon.
All told, Big Bend may be a little off the beaten path, and it may not get as much limelight as national parks like Yosemite and the Grand Canyon… 
But that's precisely why we think it's such a special place!
⸻
Our aim at Raised By Coyotes isn't just to design comfortable, functional, good-looking apparel. We want to design products that pay homage to the natural places we know and love. Namely, the rugged environs of the American Southwest. Each and every piece of apparel we craft is intended to display a little piece of the heritage we've grown up with, especially here in our home state of Texas. 
That's what the Big Bend Polo is all about.
Our Big Bend Polo
Our custom-cut Big Bend Polo heralds the sprawling night skies above Big Bend with a deep-blue constellation sky pattern. Yucca and mountain lion heads are outlined in the stars. 
Laser-engraved buttons, antimicrobial design, UPF 50 fabric that is both lightweight and 4-way stretch, an athletic "True-To-Size" fit, and our classic white embroidered coyote head on the back neck combine to finish off the polo's functional style. 
The Big Bend Polo serves equally well whether you're heading out to hit the driving range or embarking on a paddling trip up the rivers cutting through Big Bend's soaring canyon ramparts.
---